c++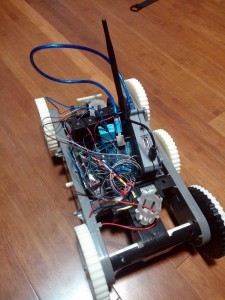 Plenty has happened since our last post, and most of it can be summarized with the following picture.
Yup, lots of wires. New body, too. With my 3D printer back in service, cases were printed for the electronics, along with new wheels all around. These new wheels add around an inch of ground clearance, and better off-road traction.
As well, the first shipment of new parts has arrived: a USB WiFi adapter, an ultrasonic range sensor, H-Bridge motor controller, 9-DOF IMU and a temperature probe.
There are a lot of really cool developments in this post; let's dive in.