If you remember, some of my earliest posts are about Gorgar. My dad picked up this pinball machine for next to nothing, rescuing it from the scrap yard. During this winter break, we moved the machine over to my dad's house, in order to have more room to work on it. Today, we made a breakthrough: we fixed the biggest issue, and now it is 99% functional (all we need is a solenoid coil to fix the center drop targets.)
Read on for a timeline detailing the work done on this machine since we received it.
The Beginning
My dad picks up the machine from someone he knows. Current symptoms:
– Middle targets don't work
– Can't have more than 1 player
– Unlimited balls (the game never ends)
– Won't count past 80,000 (cycles back to zero)
At this point in time, I am just beginning my electronics program, so the repairs are slightly beyond me. But, as a project, we keep the machine hoping to fix it in the future.
Moved to my place
After a while, my dad runs out of room in the garage: he wants to move Gorgar to my house in order to accommodate another functional machine. I take Gorgar in.
The current problems remain the same.
First repair
After a while of following wires and learning which boards do what, I discover that the reason the middle targets won't fire is because the signal is not being sent to it by the driver board.
– I test the Darlington transistor that triggers the solenoid and find it is defective.
– I replace this transistor. Now, the middle solenoid stays locked on.
– I replace the smaller pre-driver transistor, believing it is the problem. The solenoid is still stuck on.
– I replace the 7408 logic chip the drives the small transistor. Bingo!
The 7408 chip was stuck active, causing the pre-driver to be active, and thus causing the Darlington transistor to stay active. This must have kept the coil energized for a long period of time, causing the coil to burn (it is no longer powerful enough to function) and the Darlington transistor to burn as well.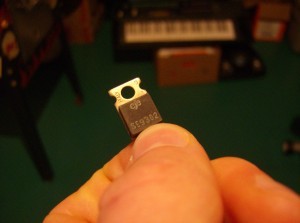 Current status:
– Burnt solenoid
– Can't have more than 1 player
– Unlimited balls (the game never ends)
– Won't count past 80,000 (cycles back to zero)
Time passes…
The machine moves with me to another house. Then more time passes. Then winter break comes, and we move it back to the pinball garage.
Serious business time
We crack down. We trade a defective Gottlieb System 1 MPU board for defective Williams System 6 driver and MPU boards. The MPU board was acid damaged, but we figured we could use some of these parts to our advantage, and start removing chips from our board, installing sockets, and using chips from the parts board. We don't see any change, good or bad.
We make a list of ICs on the board, and their functions. We find a 1-of-4 decoder, and a 14-bit ripple counter. Thinking that the counter may be in charge of points, and that the decoder may be in charge of players, we think that both of them could be defective. Rather than use the parts board, we decide to order them new.
A large order is placed at Mouser, and as usual, we receive our huge order of parts, from Arizona, in under 24 hours.
From this point, we remove these chips, put sockets in their places, and install new ICs. We do it one chip at a time, but find this doesn't fix the problem. We change almost every other IC…
ICs boxed in red were replaced
Backglass and cleanup
In the meanwhile, while the above is happening, we find someone on the MAACA pinball forums who has a Gorgar backglass available. My dad picks it up for an excellent price, blacks out some of the cracks, and voila! It looks good enough for our purposes, if not better.
As well, during this time, my dad performs a complete overhaul on the machine. Removes all the playfield items, cleans it, waxes it (3 times), and cleans the body, using ink to black out chips in the cabinet. He waxes the stainless steel, sandblasts the coin return door, changes all the lights, and exclaims, "This is probably the first time this machine has been cleaned." Ever?!
Look at the shine. This playfield is in excellent condition.
Memory
The Williams System 6 MPU board has two RAM modules. They are in charge of holding information such as current high score, number of credits spend, and general game configuration data. A set of batteries keeps these in memory.
– I remove the 2nd module on our MPU. I install a socket.
– I install the chip from the parts board into this socket. No change.
Time passes, and I continue changing random ICs, having moved on to basic logic gates (perhaps a faulty AND gate would cause the conditions to switch players not to be met…) Then, I get back to the 1st memory module. I figure, why not, and install the module that used to be in the 2nd position, into the 1st.
Power on.
Start a game. 1 player.
Add another. 2 players.
Jump.
It had worked. At this point, I could add all 4 players. We tested, and it would switch from player to player fine. It would also count past 80,000, and it would stop the game after using all the balls.
Fixed
Eureka! A year and a half later, 10 (or so) ICs replaced, and we find that a single chip caused all our problems!
Current status:
– Needs a new coil for center targets.
That's it. We now have a fully serviceable, fully functional, Gorgar pinball machine.
Potential future issues
Sound ROM 2, an IC on the soundboard that stores sound samples, has legs that are beginning to rot. This is a common problem for some ICs, likely because of the type of metal used for the legs (and also 30 years of service). We found the sound was glitching up a little, and we remove a sticker covering the IC in order to see what the chip number was (to possibly order another). The act of removing the sticker moved it in such a way the machine stopped making noise.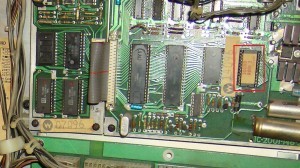 We removed the IC (a 2716 PROM chip) and carefully used a wirebrush to remove the tarnish and corrosion on the legs. We sprayed the socket with contact cleaner (we should have simply replaced it… a job for later). The IC was reinstalled, and the sound returned! But the problem is not completely fixed. We plan on installing a new PROM at some point.
8 Comments to Gorgar: We Finally Fixed Him!