It's been a while since I've posted anything about pinball, so I figured I'd share some photos of his arcade, the "Silver Ball Arcade"!
Haunted House (Gottlieb)
Comet (Williams)
Hurricane (Williams) – Comet and Hurricane are
part of a series of 3 theme park-themed
pinball machines – Missing: Cyclone
Space Invaders (Bally)
Embryon (Bally)
Black Knight (Williams)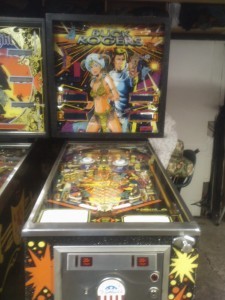 Buck Rogers (Gottlieb)
The arcade in the dark, complete with blue Christmas light border!
Notice it's actually a pinball dotting the "i". Clever…
The last machine, Buck Rogers, is for sale. Everything is in excellent condition: playfield, backglass, cabinet are all remarkably nice. Contact me for more info!
2 Comments to The Arcade
Leave a Reply