Lots of it. Depending on how long and hard you work, it can take from hours to days. I worked at it non stop on Wednesday, from 8:30AM to 5PM, and then again this morning for a couple hours, and now it's done. It is very rhythmic and mind numbing work: time flies, and your mind separates from the task at hand… It was fun! Here are some of the results:

The nicely sanded hood. Notice I did a proper job, and removed the washer nozzles.

I removed all the door panels to do a better job.

The front driver and passenger side doors had some rust all along the bottom, and I knew I wouldn't be able to paint on that, so I took some spray on rocket guard and covered it up (after cleaning out the grease and sanding). Looks good, and will make it last a lot longer!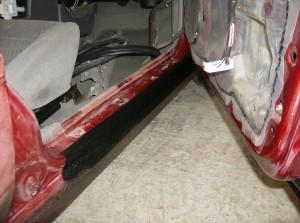 I also did it to the bare metal/rust on the inside door rails along the floor. Since feet will be hitting that, the rocker guard will definitely protect the metal, better than paint that will surely chip.

In behind the tail lights.

Inside the hatch. You really begin to realize just how much will need to be masked and protected from paint spraying. Lots of work, I tell you.

The roof, of course.

A nice, bare rear. That didn't sound right…

It's always good to have your supplies organized and available (right, as if that is organized).

Music is also a nice touch for work in 42*C (with humidex) weather, under the sun, working non-stop.

And, of course, don't forget good old safety gear, and motivation! 🙂
To come… the masking! (Batteries dies on camera, so no shots during the masking, on some near/at the end. Sorry!)
No Comments to Painting my Escort (Part 3) – Sanding
Leave a Reply