Summer is here! And, I have plenty of little projects lined up. Right now? Painting my car. No, this definitely doesn't count as a little project. The rust has come back after I painted it last year, and I realized that the Duplicolor/Canadian Tire paint/primer doesn't last at all. However, I realized that the section of my car I painted using Tremclad is in the same condition as it was last year!

This is the repair with the Duplicolor. Didn't last so long.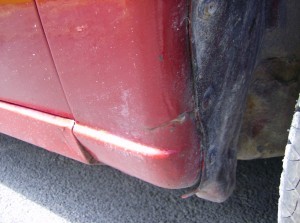 This is the Tremclad job: not too bad!
I have been wanting to paint my car Yellow for the longest time. Now, having realized the rust is back, and will continue costing me money, I decided I'm going to paint the whole car!
I'm going to use spray paint for all this. Before you all chime in, explaining how I am a fool and how I am wasting my time… I've done plenty of research. I've used spray paint before. If I use a roller, I risk fish scaling, and peeling if I don't mix the right amount of paint thinner. If I use a spray gun, again I risk mixing it improperly (the Internet has varying %s of mixing, not helpful). Spray paint will allow me to apply a somewhat even coat, it is somewhat friendlier to use, and I don't need to worry about mixing.
This is the first time I ever attempt to paint a whole car. Laugh all you want. From the get go, I was running into unforeseen obstacles. But, I have drive to do this and follow through till the end. I have set aside all the time to get all the details, to properly apply everything. And with time, determination, and hard work, I'm sure I can pull this off. And of course, if it fails, at least I learnt something. This is a very rusty car, so I expect the paint job to outlast the body.
The Plan
The plan is fairly detailed. In summary, it will involve this:
Cleaning all areas
Sanding all areas
Bondo where necessary (body repair)
Primer coats
Paint coats
There is a lot more than that in reality. So many hard to reach crevices, so much grease to remove, so much attention to keeping even coats, and applying enough coats. And possibility for lots of sanding in between coats, making sure it is nice and even. But I'm up to the challenge.
Materials
Here are the materials I will be using.

The total cost me around $101.

Tremclad Yellow: an excellent colour. I could only buy 6 cans, I bought out their entire supply! I will likely need more, but we'll see. I grabbed the same brand of primer to reduce risks of peeling.

I picked this up, since it will allow me to aim better, and I won't end up with a permanently yellow hand/finger!
Photos
Here are some shots of the preparation, and of some of the challenges I will face with painting.

Lots of cleaning by the hinges and in the corners

I had to remove the Ford and the Escort LX badges. That was the moment of commitment (now I need to buy a new Escort badge, as the old one had to be destroyed in the removal).

There was some previous body work here.

There was also a coat done semi-professionally not too long before I bought the car. Notice they didn't really even sand or prime, they just painted over it seems.

The bumper was broken in the corner when I bought it. It has been super-glued back, now I will need to Bondo it.

I'm going to have to remove the door panel and the door trim to make sure I get as much painted as possible. It's a pain going from one colour to another.

The rockers look like they've been replaced already, and are pretty rust, and bent in some places. I will make sure to get those, I really don't want them to rust through (again).

And, while I'm at all this, I will doing a bunch of other improvements: painting the wipers black again, fixing the front speakers, installing interior LED lighting.
More to come soon! I plan on documenting the entire process.
Leave a Reply