This has been a long time coming. To summarize, Bell Aliant's FibreOP Internet service includes a wireless router that has proprietary, limited firmware. It tends to suffer from latency and WiFi issues. So, I sought to replace it with my own wireless router! I ended up first building an overpowered but very functional pfSense Linux Firewall/Router.
Despite my monstrous UPS, I was not happy with the 1 hour run-time. The whole reason for the pfSense router was that FibreOP "hides" its Internet on a VLAN, which means a standard, consumer router will not be able to access the Internet. And from some forum posts I had read, it seemed DD-WRT was also incapable of it.
Finally, today, I pushed through and realized it takes only 4 simple steps to connect a DD-WRT router directly to the FibreOP modem.
Note: If you use Bell Aliant FibreOP Phone or Television service, do NOT do this as this guide does not cover getting those to work. It will render your phone and TV service inoperable!
(Unless of course you are skilled in networking and know how to maintain those services, while simply bypassing the ActionTec for Internet. In that case, you would ignore this warning anyway.)
1. DD-WRT Router
There are so many different models of routers capable of running DD-WRT. My router of choice so far has been the D-Link DIR-615. The stock firmware on these is pretty bad, but once you flash DD-WRT on them, they are powerful devices. Generally priced around $30-40, they are not overly expensive. I've used/installed over 6 of these, and only one has failed (partially; WiFi failure). I've used C, E and I hardware revisions. The DIR-615 I1 has a more powerful, 535MHz CPU (rather than 400MHz).
Installing DD-WRT is worthy of its own article, so this post assumes you already have a DD-WRT router installed, and that you are starting from factory default settings.
2. The Setup
The whole idea is to have the router's WAN (Internet) port communicate on VLAN 35, which is the VLAN FibreOP uses for the Internet. This is how you would do this with DD-WRT:
a) MAC Address Cloning
The FibreOP modem will only communicate with the router if it has the same MAC address as the ActionTec router they included.
Click Setup->MAC Address Clone.
Select Enable, then in the Clone WAN MAC fields, enter the MAC Address written on the label for your ActionTec router.
Click 

b) VLAN Tagging
On most routers, the WAN port will be named eth0, and the LAN ports will be bundled as eth1. So, we need to create VLAN 35 on eth0.
Click Setup->Networking.

Click Add, select eth0 from the dropdown list, and enter 35 as the Tag Number. Do not change anything else.
Click 

c) WAN Port Assignment
This is the key to getting it to work. After you Apply the new VLAN settings, a new interface will be created: eth0.35.
In the WAN Port Assignment list, select eth0.35 as the new WAN Port. You do not need to change anything else.
Click 

Conclusion
Now it is easier than ever to free your network and gain more control. Using a low-power DD-WRT router, or a monster pfSense box, you can gain more control over your home network, and completely remove the ActionTec from the equation.
For those who might be interested, I looked into the TX Queue Length value shown in Step c) above, which is essentially a buffer. A larger buffer can result in higher latencies, and significant degradation of performance. The default is 1000, however using some equation offered on another blog, based on the average latency and speed of my connection I calculated that a value of 440 would be better for me. Experiment with these values.
Even with less CPU and memory power available in a small Wireless Router, my connection speed is still just as fast: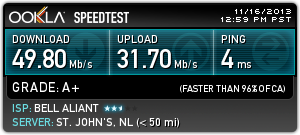 34 Comments to Bell Aliant FibreOP with a DD-WRT Router
Leave a Reply