Modern day GPS devices are essentially miniature computers. Many have a compact version of Windows, called Windows CE, installed, and the GPS software runs over top of it. However, GPS manufacturers often lock out this extra functionality. There are different packages and ways to unlock your GPS, however because there are so many different brands, it isn't always one-size-fits-all.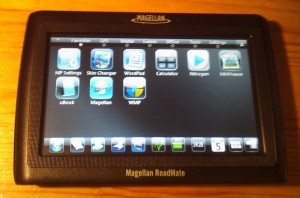 I Googled for information on unlocking the Magellan RoadMate 1424 (the GPS I have) but the only information I found was a couple of people who couldn't do it. Not deterred, I set off and entered the unknown. Read on for my story (spoiler: it ends in success).
A popular GPS unlocking distribution is MioPocket. It is compatible with a very wide variety of GPS devices, though it was original designed as a way to free Mio branded devices. Because most GPSes have Win CE 5 as the operating system, MioPocket will run (it has support for CE 4 till 6.)
In searching for people who had tried to unlock their RoadMate 1424s, I found this forum thread. It seemed like neither of the two posters had any luck. Regardless, I began the quest, hoping that I would be able to figure something out.
I won't repeat the steps for installation, because they are available in the read-me file when you download the MioPocket software. However, there is a remark to be made about the 1424:
There is no SD card slot. Therefore, the non-permanent, no-risk SD card method is out of the question for this device. This means that modifications must be made to the device's internal flash memory, at the risk of "bricking" the GPS.
At this point, before I could copy over the MioPocket files, I needed to clear room. Before you do the following, make a folder on your PC and copy EVERYTHING in the Magellan drive (when you plug your GPS to your computer) into this folder. That way, you have a backup if anything goes wrong. Should anything go wrong, don't panic. Simply make sure it is plugged into your USB port, move the switch to reset, wait a couple seconds, and turn it back on. It should go to USB mode in about 5 seconds, allowing you to restore the files.
Here is a list of files I deleted, that shouldn't cause any problems.
In the APP folder, go to the SOUNDS folder. If you only need English (or French, or Spanish) delete the two other language folders.
In the APP folder, go to the speech\languages\speech\vautov5 folder. In there, find the name of the language(s) you want to keep. In my case, Samantha was english (enu). I deleted the two others.
Go up one level, and go into the components folder. In there, I also deleted the files associated with the languages I didn't want, making sure to keep all the files for Samantha/enu.
Go back to the APP folder. In there, there is a demo.avi video file. It is around 20MB, and takes up enough space. It doesn't serve any purpose for us, so it can also be removed.
At this point, there is enough room to install MioPocket. However, should you wish to make more room, there was one more set of files I deleted that I didn't really need.
In the MAP folder, I removed the AAA_TB_POI.poi file. This is just a point of interest file, with locations I think for service stations, etc. I never used it, and figured I could free some room to store a bit of music on the device.
The NA_Traffic.trf file I could also do without, since I don't think this GPS really supports the full traffic reports feature. Besides, I didn't need it.
Finally, if you really need space, and you don't need any points of interest, you can just delete the NA_POI.poi file, saving you almost 320MB.
I configured the GPS through all the steps I could in the read-me, and started it up. The read-me said that the device should begin to load, and prompt me whether I wanted to boot the built in Navigator software, or run MioPocket. However, I encountered the same problem as the other people in the forum: it just sat at the loading screen.
To get it working
Make sure you do try to boot it at least once after you copy the files to your GPS. It will hang, but let it sit for at least 3 minutes as it will still copy some important files.
I did two things before I got it working. I don't think the first thing solved the issue, but I will mention it anyway.
I opened the Navigator.mscr file (in the MioAutoRun folder on the GPS) in notepad. I then scrolled to the following section, and changed some code:

SetChoiceEntryFormat(31, 25)

ElseIf(ScreenWidth() < 640)

SetChoiceEntryFormat(35, 26)

SetChoiceEntryFormat(66, 46)

changes to…

SetChoiceEntryFormat(35, 26)

This may not be necessary, but I thought that the setup process was hanging up on the resolution detection.

Then, when that still didn't fix it, I tried one final thing. I opened the MioAutoRun folder that I copied to the GPS, and opened the MioPocket.ini file that had been created when I first powered it on. In there, I changed one setting: right near the top, the first option [Unlock], I set StartupMenu=0. This means it won't ask what you want to start from, it will simply starting in MioPocket right away. That solved the problem. Power it on, and let it go. After about 2 minutes it will restart in MioPocket (probably a bit less).
And it all works now. Having done this, I realized that this isn't the right GPS to use as an in-car entertainment device. Yes, it can now play movies and music, with easy to use buttons. However:
No bluetooth
No wifi
No headphone jack
No SD card slot
This means it cannot be hooked up to your stereo, it cannot sync with your phone, or go on the internet (wirelessly), and without an SD card slot, there really isn't a lot of room to store any music or video.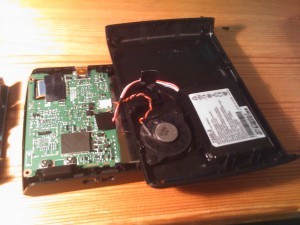 See, I really did check to see if I could
modify it anymore, but there are
no places for a headphone hack or SD slot.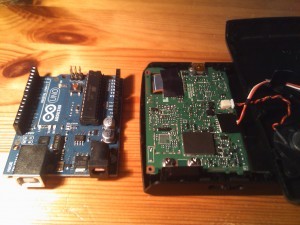 Tiny motherboard, almost smaller than an Arduino!
Final Thoughts
A lot of the programs do not run correctly with this software for me. However, WMP (Windows Media Player) runs fine, the file managers and most utilities work, and I can still open the original Navigator software and use it as a GPS. But it really is not usable for what I would want ideally.
Windows Media Player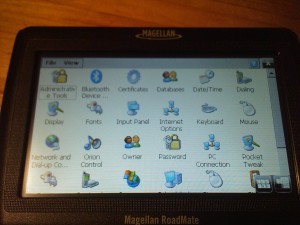 Control Panel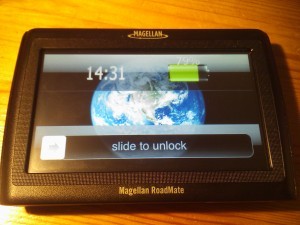 I love how most custom portable OSes
incorporate the iOS lock screen.
48 Comments to GPS Hacking – Magellan 1424
Leave a Reply